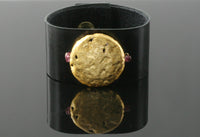 Earthly Elegance
Standing in Oregon's rugged and soul dazzling high desert, rounded lava stone in my hand, it came to me; combining time immemorial stone with ancient gold leaf would powerfully express the raw, bold elegance, strength and grace reflected by so many women today. A woman who enjoys being noticed as both gracious and grounded, is exactly who my line of jewelry and home décor is for.
Jan Maitland, Designer
Featured - Jewelry of the Day!
Gilded Sun Leather Cuff -
23-Karat Gold Leaf on Lava, Pink Tourmaline, Black Leather
Shop Now
Passionate Red and Amber Collections